Welcome to the School of Chemistry
Trinity College Dublin was founded in 1592 and is ranked at 71 in the QS world university rankings for 2015. Formal chemistry teaching commenced in August 1711 when the first dedicated Lecturer in Chemistry was appointed. The School of Chemistry has 20 academic staff, 5 administrative staff and 14 technical and attendant staff, of whom 2 are employed full-time in workshops that provide electronic and glassblowing services. Read more
Current News & Events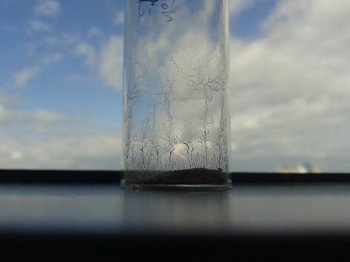 (Chemistry World: After a solvent evaporated, this beautiful, unexpected motif formed. It seems like small trees have taken root and are seeking the sun).

Next Seminar/Event


School of Chemistry
Research Seminars

LARGE LECTURE THEATRE
MAIN CHEMISTRY BUILDING
Thursday, 8th December at 12 noon
By
Dr. Anna Company
Department of Chemistry
Universitat de Girona (Spain)
On
"Spectroscopic studies and oxidizing reactivity of high-valent Ni-oxygen species"
All are welcome to attend.